Property For Sale In Abruzzo
Distant from the tourist boom lies the central and southern Italian region of Abruzzo. Most famous for its history of pasta-making, Abruzzo is now slowly attracting visitors' attention, especially those looking forward to a more pastoral experience of Italy. 
Looking for property for sale in Abruzzo means you probably are already looking forward to a life away from the usual city lifestyle. The property value here is lower, which makes investing here quite a bargain. 
With one-third of its area covered by national forests, this region is populated by cities whose medieval and modern lines overlap each other. The abundance of nature seamlessly weaves into regular life here, which is why it manages to keep the masses away and only attract niche attention. 
Take the example of the chef with three Michelin stars who runs a restaurant from a former 16th-century monastery! 
Keep reading to see what kind of properties you can find in this magical place. 
Traditional stone house in San Buono: € 35,000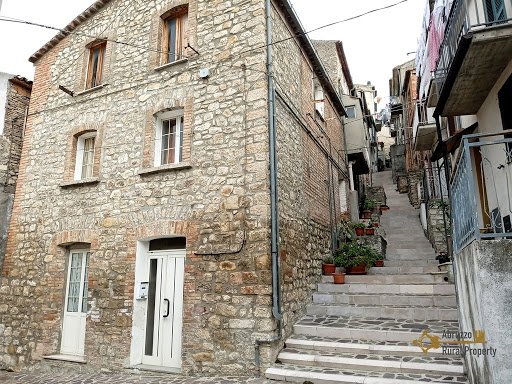 Ready to move in, this traditional stone house—and yes, it is completely made of stone—sits near the coast in the Chieti province and is centrally located in the historic town of San Buono. 
Simple but spacious, the ground floor has a living room, dining area and kitchenette. The upper floor has a master bedroom with an en suite bathroom (including a bathtub). 
Right next to it is another bedroom which takes up the large staircase landing space. Apart from some light internal revamping, the house is in good condition and prepared to welcome new residents. 
Condition: Renovated; light internal work needed.
Province: Chieti
Size: 70 m2
Rooms: 6
Bedrooms: 2
Bathrooms: 2
Land: 90 m2
Features: cellar, near the coast, centrally located, vaulted ceilings, central heating, double glazed windows, fireplace, separate entrance for both floors.
Overlooking the Gran Sasso mountain range and the surrounding medieval village of Elice is this two level house. This one is a cozy and perfect space, well-located as it is only 30 mins by drive from the beach, the foothills of the mountain as well as the airport. 
With a fully-fitted kitchen, 3 double bedrooms, one of which has an en suite bathroom, and a traditional fireplace lounge, the interiors are spacious and feel more luxurious beyond the usual comforts of a home. 
The fenced garden and sitting area provides a generous amount of space to relax and gaze at the outstanding views. 
Condition: Newly Restored
Province: Pescara
Size: 120 m2
Rooms: 5
Bedrooms: 3
Bathrooms: 2
Land: 0.3 ha
Features: two outbuildings, lounge area with wood-burner stove, free standing bath, terrace with mountain view, pizza oven, wooden portico, outdoor space and seating, fenced garden.
Somewhere between the hills of Teramo and Pescara sits this traditional cottage made of stone and brick. The renovation was done while preserving the original elements of style and character of the house. 
Though internal work is still needed, the interiors show the grand potential such a space has: kitchen, living room, two bedrooms and a bathroom—and this is only the ground floor. The first floor has a terrace and the land is surrounded by olive groves and vineyards.
Condition: Partial Restoration Required (price included)
Province: Teramo
Size: 100 m2
Rooms: 3
Bedrooms: 2
Bathrooms: 1
Land: 0.7 ha
Features: olive grove, land, terrace, large patio area, detached house, renovation price included, peaceful location.
Traditional stone farmhouse: € 179,000
Built completely out of stone, this quaint country house is located 20 minutes away from the Adriatic Sea near the outskirts of Celenza sul Trigno. 
Sitting on 1 ha of land, this house is a lovely fusion of the rustic and the modern, as shown by the wooden veranda patio, exposed stone interiors and an industrial kitchen. 
Through the entrance one finds themselves in a cozy lounge with a fireplace, built-in kitchen and a wood burning oven. The dining area is accessible through the front patio as well as the back garden, keeping it nice and airy. 
Next to this is a master bedroom designed with exposed stone and patio access, which also directs us to another bedroom at the other end of the house. 
The upper floor opens up to a large living room, generously lit by natural sunlight, and surrounded by a panoramic view of the mountains. 
This room with its exposed beams, wood burning stove, also opens up to a terrace and is adjacent to a bedroom with a bathroom, where bathtub installation is possible. 
The house is even large enough to be divided into two different housing units. 
Condition: Restored
Province: Chieti
Size: 140 m2
Rooms: 9
Bedrooms: 3
Bathrooms: 3
Land: 1 ha
Features: patio, garden, underfloor heating, double glazed windows, countryside location, rustic design, fireplace, panoramic view, wood burning oven, wooden veranda. 
3 Bedroom House: € 225,000
An example of innovation meets tasteful design, this villa is nestled in a hilly cove, overlooking the south view towards the stunning Majella massif and the surrounding hills. 
Built with anti-seismic isolation technology, this house is close to the neighbouring Civitella Casanova village and equally distant from the mountains as well as the sea. 
While the town and modern facilities are not far, this place was built to relax in comfortable quietude. 
The interiors give a vibe of untouched countryside beauty, with exposed wooden beams and bricks, terracotta floors, stone walls which keep one cool in the summer and warm in the winter. 
All the bedrooms have en suite bathrooms and a garden surrounds the pool outside. Fully furnished, this villa is luxury in nature personified. 
Condition: Restored
Province: Pescara
Size: 160 m2
Rooms: 4
Bedrooms: 3
Bathrooms: 3
Land: 1.2 ha
Features: garden, swimming pool, land, parking area, fireplace, lounge, panoramic views, en suite bathrooms, terracotta floors.
This wonderfully restored country house is located at the foothills of the mountains. Approximately 200m from the Gran Sasso National Park, the two floors of this place consist of spacious double bedrooms and well-insulated spaces that were finished using traditional materials like stone, brick, wrought iron and wood. 
The first floor uses the open plan space as a study area and 2 double bedrooms have en suite bathrooms. Two of the bedrooms have a view overlooking the sea but the entire property in general gets incredible sights towards the hills and the sea. 
The garden is filled with cherry trees, plum, walnut and fig around the boundary, making this farmhouse a pastoral dream come true.
Condition: Restored
Province: Pescara
Size: 350 m2
Rooms: 7
Bedrooms: 4
Bathrooms: 4
Land: 0.2 ha
Features: swimming pool, fireplace, garden, patio, parking, wood burner, triple-glazed windows and doors, lovely landscape view, bathrooms with showers and one bathroom with a bathtub and shower, deadlocked doors.
The natural greenery of Abruzzo makes it feel more idyllic and unspoiled than the more popular and commercially sought-after regions of Italy. Settling for a house here will surely be a life-changing moment for anyone!