Property For Sale In Tuscany Italy
Looking for some beautiful property for sale in Tuscany Italy?
You have come to the right place. Here we have 7 properties within the categories of countryside, luxury, and villas to find the best one for you.
These countryside properties are rural farmhouses with a lot of land. Some may have vineyards, gardens, and built more like cottages.
Lovely Tuscan Farmhouse: €680,000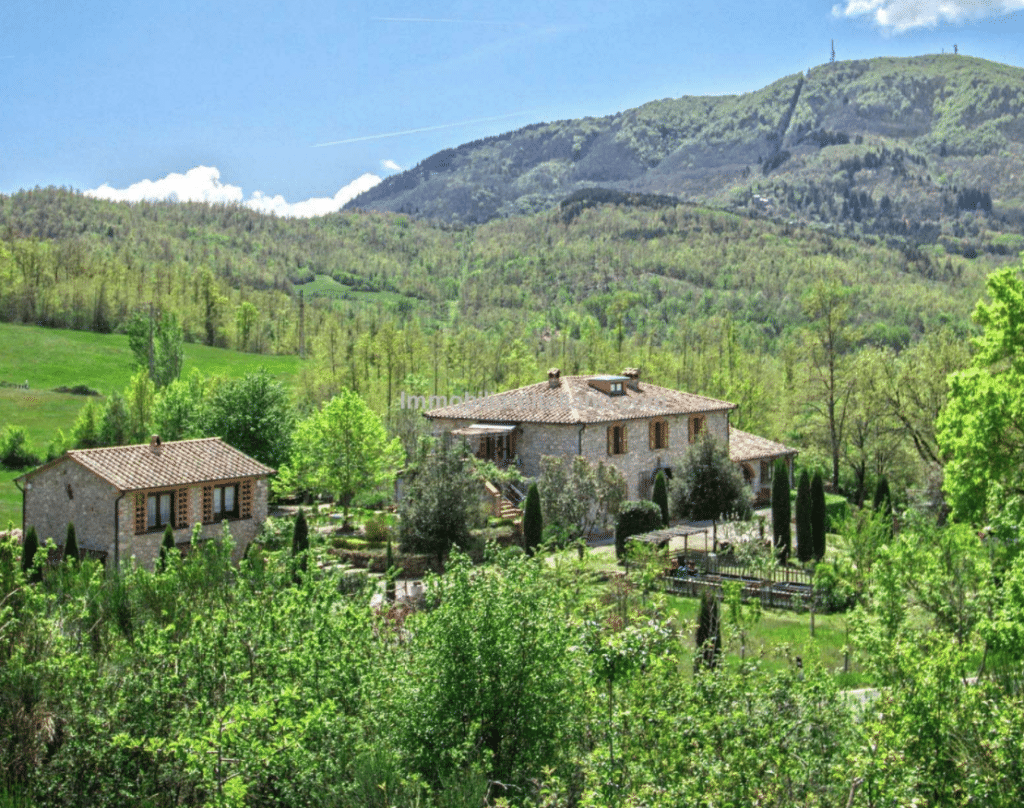 This Lovely Tuscan Farmhouse in Montieri has 4 apartments and room for a fifth one. This property is 40 minutes from the seaside with three hectares of land. 
This restored stone farmhouse is 550 sqm, with gardens along the house and a small pond. This Tuscan farmhouse has been completely renovated with wooden beams and terracotta floors.
There is a barn conversion guesthouse, 6 bedrooms with 4 bathrooms, and two levels that are divided into three residential units. 
The property is equipped with an independent heating system and the costs for heating and producing any hot water is very minimule.  
Condition: Restored
Municipality: Montieri
Province: Grosseto
Region: Tuscany
Size: 550 sqm
Rooms: 15
Bedrooms: 7
Bathrooms; 5
Land:3.0 ha
Features: vaulted ceilings, wooden beams, natural pon, stone walls, terracotta floors. 
Apartment 1: living room, dining, kitchen, two bedrooms, two bathrooms 
Apartment 2: living room, kitchen, bedroom, bathroom
Apartment 3: double living room with open kitchen, three double bedrooms with a bathroom
Rural Farmhouse in Volterra: €1,450,000
This beautiful Rural  Farmhouse  is approx. 820sqm within 1 ha of land and 4 independent apartments.
The owner's unity has 2  flats that are rented out and total to  12 bedrooms and 6 bathrooms. This includes a wide dining room/ kitchen, laundry area, and boiler room. The internal stairs lead to the first floor which holds 3 bedrooms, a studio, bathroom, and underfloor heating. 
The second apartment has independent access from a garden area which leads into a kitchen/dining room and a staircase to the first floor. 
Outside you have access to a long rectangle pool on the top of a hill.
Condition: Restored
Province: Pisa
Region: Tuscany
Size: 820 m2
Rooms: 20
Bedrooms:12
Bathrooms:6
Land:1 ha
Features: pool, garden, car park, terracotta floor, thick blocks of stone walls, wood-burning oven
Vineyard in the Maremma Countryside: € 1,480,000
This Tuscan farmhouse is 420 sqm with a wine cellar and 2 ha of vineyards. The total coverage is 8 ha with an olive grove and swimming pool. 
There is plenty of potential for an expansion and it sits on the hills of the Grosseto Maremma. It is not too far from the sea and still accessible to other areas in Tuscany. 
There are two floors with a surface area of 310 sq. The ground floor has a living room with a central fireplace and a large porch. Also included is a dining room, kitchen, study, and bathroom. 
The first floor has a master bedroom with a private bathroom and walk-in closet. This floor also includes two extra bedrooms and a shared bathroom. 
As a typical farmhouse, this one also includes stone walls, stone pillars, and wooden beams.   
Condition: Excellent
Municipality: Scansano
Province: Grosseto
Region: Tuscany
Size: 420 sqm
Rooms: 13
Bedrooms: 3 (could be up to 5)
Bathrooms: 4
Land:8 ha
Features: 460 Olive trees that produce lovely oil, wood-burning oven, connected electricity and telephone, vineyard, cellar, garden
If you were wanting something a bit more luxurious than a farmhouse then we have two properties. They provide a completely different style from the previous ones I listed.
Tuscany Holiday Complex: € 2,900,000
Now here we see an immense difference from the more quiet countryside property to now this large Holiday Complex. 
This complex property sits on 23.0 hectares of land. Comprised of restored buildings, there are a total of 16 bedrooms and 16 bathrooms. 
Surrounding the land is 300 olive trees, a restaurant, a wellness center, and a chestnut grove. There are large open spaces with an infinity pool and the complex is virtually energetically independent. 
The main farmhouse is on the ground floor with a reception space, a bar, and two restaurant halls. The rest of the building then has a total of 9 bedrooms with a private bathroom.
First floor: entrance hall, office, living room with fireplace, kitchen, and bathroom/laundry
Second floor: three bedrooms and two bathrooms. 
This is another virtually energetically independent building with a photovoltaic system for electricity. 
Condition: Restored
Municipality: Arezzo
Province: Arezzo
Region: Tuscany
Size: 420 sqm
Rooms: 25+
Bedrooms: 16
Bathrooms: 16
Land:23.0 ha
Features: restaurant hall, olive grove, infinity pool, terracotta floors, wellness centre
Arezzo Castle: € 1,890,000
This luxury medieval tower has been transformed into Arezzo's Castle with 4 bedrooms and 3 bathrooms. The tower itself has a surface area of 450 sqm and was documented in the 14th century. 
The remaining building is roughly 150 sqm and consists of garages, tool sheds, and a pool house. 
Surrounding the tower is 2.0 ha of landscaped gardens that is accommodated by a 12 x 6 m swimming pool. 
Condition: Restored from a medieval tower
Municipality: Cortona
Province: Arezzo
Region: Tuscany
Size: 600 sqm
Rooms: 10
Bedrooms: 4
Bathrooms: 3
Land:2 ha
Features: swimming pool, garden, terracotta and stone floors, stone fireplace, pergola, and stone walls
The way I would best describe a villa is the amount of rooms as a luxury home but with the tranquility of the countryside. The design isn't as intense or intimidating as luxury homes but still a large property.
San Casciano in Val di Pesa: Price upon Request
San Casciano is a prestigious late 15th-century villa that has been restored to display its beautiful gardens and a panoramic park. 
Known for its elegant entrance this renaissance villa sits on the hills of Chianti Classico. With 5 hectares the main villa consists of  3 lounges, two dining rooms, 2 kitchens, 8 bedrooms, a study, and 11 bathrooms. 
This estate also includes a second villa with luxury apartments. The rest of the land has a nobel chapel, vineyards, and olive groves.  
Condition: Restored
Province: Florence
Region: Tuscany
Size: 2200 m2
Rooms: 50
Bedrooms: 30
Bathrooms: 30
Land:5 ha
Features: swimming pool, garden, noble chapel, vineyard, olive groves, and historical background
Rosignano Marittimo: € 2,200,000
This Rosignano luxury villa faces the sea and is minutes from the "Baia del Quercetano". The view faces the Tuscan Archipelago that is breathtaking in the morning.
This villa is surrounded by tall trees which allow for a bit more privacy.
The pool is 5 x 10 and there are a total of 7 large double bedrooms for a 14-bed space. This leads into 5 bathrooms, 2 kitchens, and 3 dining rooms.
Some other entertainment areas are the library, TV room, and a large terrace for beautiful group photos.
Condition: Restored
Province: Livorno
Region: Tuscany
Size: 400  m2
Rooms: 12
Bedrooms: 7
Bathrooms: 5
Features: TV room, garden, terrace, vineyard, outdoor seating.
All these estates are beautiful in their own ways from a luxurious property to a more tranquil farmhouse. 
As we went through these properties I hope you were able to find which ones you had a preference for. Possibly you found out you really wanted a certain feature for your property or wanted a specific amount of rooms.
Overall, I hope this was useful and no matter the choice you are almost guaranteed a beautiful view.