Buy A House In Italy For 1 Euro
Yes, really! Buy a house in Italy for 1 euro! A whole house in Italy for €1 in 2020!
Ok, we promise we won't repeat ourselves. If you're reading this, though, it's probably safe to assume that you want to know how to buy a house in Italy.
What you might not know, however, is that there are 1 euro homes for sale in 2020 (that's the last one, I promise!). While purchasing a Tuscan villa with a sea view might seem like little more than a dream, you could make it a reality.
Buying a house in Italy, or anywhere in the world, can be a huge task to take on. Luckily for us, there are some attractive incentives to buy property in Italy right now. If the idea of a 1 euro home sounds too good to be true, read on.
We've come up with a full breakdown of buying a house in Italy for just 1 euro. We'll also outline all the small print and hidden pitfalls. So what're you waiting for?
The History
How can I buy a house for just 1 euro you might be asking yourself? Well, Italy famously has quite an old population. They've got one of the lowest birth rates in Europe. Couple this with the 'Italian model' of preserving culture, and you've got a perfect property storm.
With youngsters leaving for the city and an elderly population dying with no-one to leave their houses to, there's loads of uninhabited homes. Municipalities can't, or won't, simply knock these gorgeous properties down.

Photo Credit: CNN
Hence, many towns have started an incentive that allows people to buy a house in Italy for 1 euro. Buyers will take on the costs of renovating, and nab properties for just 1 euro.
This could positively shock the Italian real estate market. Plus, it could help young buyers to own homes.
Also, this 1 euro housing project can inject tourist dollars into these areas. Indeed, tourists might not change the population crisis. Unless, of course, they catch that spirit of Italian romance!
However, they can help to rejuvenate regions in Sicilia, Sardinia, and beyond!
Not long ago, Italy was even giving away castles! All under the agreement that the development turned them into businesses!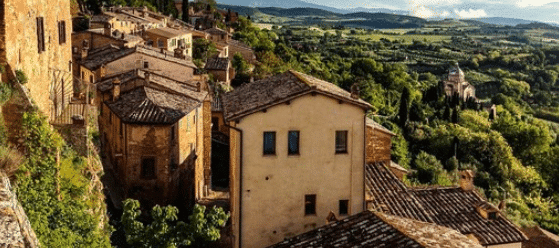 Photo Credit: The Mayor EU
Can You Really Buy A House In Italy For $1?
So now you know that you can buy a house in Italy for 1 euro (about $1). But what's the real deal? Let's have a look at the small print of this programme.
What's The Best Way To Start?
There are some key points that you'll need to know before you buy your 1 euro dream home.
Can a foreigner buy a house in Italy? – Yes. You don't need to be Italian. Luckily enough for overseas investors!
You must declare that you haven't committed mafia crimes. – Seriously, this was part of the reason that the 1 euro homes for sale 2019 scheme failed in Salemi!
You have to fill out a short application. – Before you go rushing off to buy a 1 euro house, make sure to contact that municipality!
Check out local blogs on the area you're looking at. You could even get started by contacting local estate agents or a law firm to get a reply. Think about the sort of people that would know what's going on in the area you're looking at.
Then, you might want to look at multiple properties. Remember, the more properties you look at, the better idea you'll get of the whole area. Look for ads in the town or city that you're aiming for.
Will It Really Cost 1 euro?
We know what you're thinking – buying a house in Italy for 1 euro? There's just no way. To some extent, you'd be right. The whole 1 euro house thing is a bit of a honey-trap. Below, we've listed what it's really going to cost.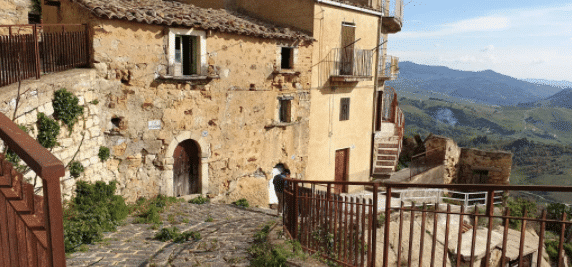 Photo Credit: 1 euro House Project
The house itself, in the state that it's presented really is just 1 euro. However, you'll assume the costs of doing it up. In the long-run, you'll have to weigh these up against the price of a new property that needs less work.
Hidden Property Costs
There are a lot of potential hidden costs to consider when buying a house in Italy for 1 euro. Legal fees like land registry and VAT can be high, and the processing slow. You'll also have to work at 'the Italian pace'. This means that –
You Can't Pick And Choose Your Contractors
First of all, most of the homes on offer are in rural hill towns. This means that there's usually one architect and one builder. So you won't have a lot of choice as to who does the work, and they'll set the price.
Sometimes things can get a bit territorial. It's not always as simple as getting a painter, or a roofer, from the town over if he isn't someone's cousin. You'll have to use the contractors in the town you've chosen, or wait on them until they're available.
Remember when we said that Italy loves to preserve its culture? That also relates to building materials. Many of these 1 euro homes are in historical centres with old roofs and walls. You might even be better off gutting your 1 euro house and starting again.
Although starting from scratch comes with its issues. Bear in mind that you could pick up a fully-furbished apartment with a sea view for around $60-80k! At least cosmetic repairs are cheaper, and kitchens are especially reasonable in Italy.
Another thing to consider is that –
Renovation Costs Don't Equal Sale Price
Remember that even if you do funnel money into your 1 euro home, the resale value might not reflect the renovation. If you're buying a home in Italy, you shouldn't expect to sell it. Nor should you want to!

Photo Credit: CNN
Our top tip? Get all your quotes upfront to get a touchstone on price!
Buy A House – Buy The Debt
Another hidden cost is going to be the debt on the property. You'll assume it all. As we mentioned, repair costs may or may not be a good deal compared to the cost of buying a home outright. Make sure to check all the paperwork before you sign.
Plus, if there is an outstanding debt on the property (e.g. a mortgage or unpaid taxes), that defaults to you. Sometimes, these hidden costs are why the property is being sold in the first place!
Our top tip – Hire a professional Italian Notary to help with any paperwork!

Photo Credit: New York Post
Italian 'Foreigner Tax'
It's no secret that some prices may ( though not always) be jacked up for foreigners. Remember that we said living in a small town means working with small-town businesses?
Spend time to make friends and contacts before you buy your Italian property and have a native speaker with you.
If there's an area that you're interested in, try checking out the surrounding villages. The best way to not get taxed as a foreign is to become an Italian! Get to know the people and the details of how life works in that area of Italy.

Photo Credit: The Latch
Time Limit
There are two aspects to time limits that you need to be aware of. Firstly, you'll need to do a lot of research. You may even need to visit on holiday multiple times before buying.
Then, once you've purchased your home in Italy for 1 euro, you'll have to get to work right away. Plans will be due within the year and may state that you have to use local companies. That brings us back to our point about timing and hidden costs!
Once sold, you must start renovations within 60 days and complete them within 3 years. If you don't, you may find yourself refunded (just the 1 euro!), and your Italian house reclaimed.
Some municipalities are likely to also ask for €5,000 straight away. This acts as a surety policy that you will complete the work within three years.
Would You Buy An Italian 1 euro House?
Now you've got the facts, and you know that you could buy a house in Italy for a euro. The question you have to ask yourself is, would you buy an Italian house for a euro?
Does living in a quiet little village suit you? Do you have the finances and the commitment to restore an old property? Are you looking for the next chapter of your life, or do you want to move into somewhere today?
Photo Credit: Case 1 euro
Is It Cheaper To Just Buy Houses?
All these questions may leave you wondering – is it cheaper to just buy a full-priced Italian house?
Some buyers who have weighted up the one euro home offer, have found it cost-effective. Although, with planning permission, notary costs and restorations, you might be after something that's less work.
You'll also need to be renting while you home is being built if you plan on being on-site. Whilst stunning locations are crucial factors; it's easy to get carried away with a bargain. Buying a house in Italy for 1 euro will end up costing a lot more, though.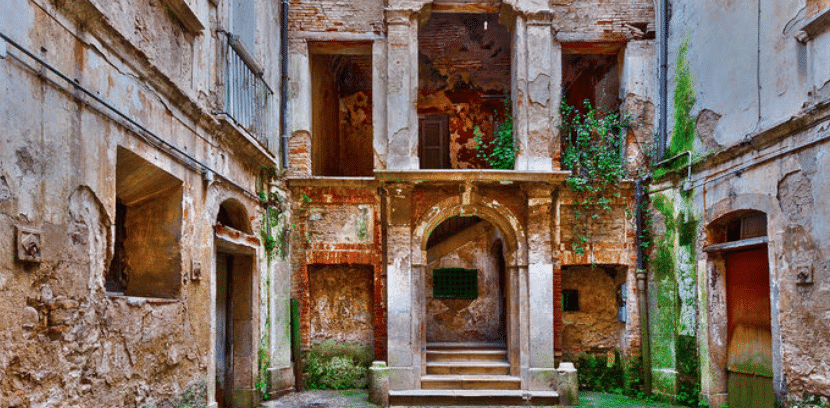 Photo Credit: Italian Fix
What Town In Italy Is Selling Houses For 1 euro?
Perhaps you're still taken with the idea of buying a house for 1 euro. We're glad to hear that! To help you in your search we've listed a few places where you can find houses for 1 euro in Italy.
Patrica
Not far from the motorway connecting Rome to Naples, in the province of Frosinone, is Patrica. It has little more than 3,000 inhabitants and 38 abandoned houses in the last census.
It's got chestnut woods, and the town rises up a steep slope. Nearby are the Lepini Mountains and the Valle del Sacco. This quaint Italian hillside town features narrow alleyways leading to its church. At its top lies the Palace of the Spezza family, with amazing views all around.
Cinquefrondi
Italy's famous 'Covid-Free Town' – Cinquefrondi has more than enough to attract buyers. This town is set among hills and rivers with houses close to the sea.
Plus, Cinquefrondi only requests €250 annual as a policy insurance fee. This will cover works on all your 1 euro houses until they're completed.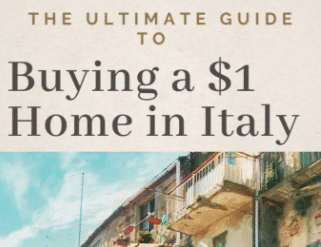 Photo Credit: Purses And Planes
Ollolai
In the province of Nuoro lies Ollolai. It's only about an hour and a half drive to either the west or east coast of the island. You'll be spoilt for choice in Ollolai. The area boasts lakes and forests. It's even close to Golfo National Park.
Nuoro province is relaxed and friendly – a place where old traditions are kept alive. If you're after Italian houses in a peaceful area on a low budget, this could be the location for you!
Mussomeli
Mussomeli is a town of 11,000 located in the heart of Sicilia. It's part of the hilly area east of the Platani River. Plus, if you're looking to visit, it's just 150 km from Catania Airport.
The weather is dry in winter, and warm and windy in the summer. Typically Italian! You certainly won't find snow here in winter. You also won't find much rain in the summer.
Gangi
Voted the most beautiful village in Italy, in 2014, Gangi is a paradise in Sicilia. Located in the province of Palermo, Gangi is surrounded by greenery. With Mount Barone in the distance, you can enjoy stunning panoramic views.
Gangi's old town was completely rebuilt in 1300 following its destruction in the Vesperwar (that's not mopeds!).
Gangi was one of the first towns to start the houses for 1 euro scheme. Little by little, it's started to regain some of its former splendour. Gangi boast 108 reassigned houses reassigned with a further 60 to be sold!
If that hasn't sold you, then know that Mussomeli is one of the safest cities in Italy. There's been no robbery in their houses for years, thanks to video surveillance and police presence.
There are so many more places to find a 1 euro home in Italy, from Gangi to Sambuca in Sicilia alone. Just remember what you need to ask before buying.

Photo Credit: NY Post
Questions To Ask Before Buying
Are you good at bricklaying, painting, or roof installation? – You might find yourself helping out!
Can you manage a contractor in another language? – This will be key to keeping costs down, and your project on time!
Do you have time on your hands? – Are you planning to rent and live in Italy whilst you build your 1 euro home?
Can you deal with Italian red tape (which is notoriously sticky)? – Rules will vary across municipalities, so do your homework first!
Do you have crocodile-thick skin? – Be prepared for setbacks, and keep a stiff upper lip!

Photo Credit: Project Sardinia
The Round-Up
In the end, you certainly can buy a house in Italy for 1 euro. Unfortunately, it's not going to cost just 1 euro.
There are hidden costs from notary fees to building material costs. You might also find yourself paying more as a foreign investor. Plus, you might find that the relaxed pace of life that we love about Italy affects your completion date!
All of this might put you off buying a 1 euro home in Italy, and you might turn to a ready-furbished house or apartment. We certainly wouldn't blame you!
But if you have your heart set on your dream Tuscan Villa, there are ways to make it a reality. With a young population moving into the cities for work, rural Italy is in desperate need of overseas investors.
If you have the time, money, and patience then you can find yourself owning a cheap property in Italy. There are loads of places to choose from, both in the hills and near the sea. Plus, your overall costs could end up being less than buying new.
For those that are willing to put the work in the reward could be your dream home in Italy, and all 'for just 1 euro!'.
Do you want to learn more about buying property in Italy (for 1 euro or not!)? Then why not have a look around Pearl Lemon Properties for tips?