Property For Sale In Sorrento Italy
If you are looking at property for sale in Sorrento Italy you will come across beautiful scenic views and greenery surrounding your area.
I have listed 6 properties for you to browse with the price listed for each – if available.
You will notice that I sectioned the properties into three sections – apartments, villa, and luxury. Each has different styles in terms of interior design. Once you find one that suits you, no matter what you have a beautiful view.
Enjoy these luscious properties for sale in Sorrento Italy.
Apartments will mostly be a flat that you can live in or a small apartment to have as your own. The designs are very unique especially with flooring and architecture so I would keep an eye out for that.
Historical Apartment: € 1,800,000
This historical apartment is just two kilometers from the city center. The apartment has an independent entrance that is 120 sqm with a 100 sqm garden.
The rooms included in this apartment consist of a living room with access to a large terrace, three bedrooms, three bathrooms, and a kitchen.
All three bathrooms have access to the terrace that is surrounding the living unit
This beautiful villa-style overlooks the bay of "Marina di Puolo" and "Regina Giovanna". It was restored in the early 80s with the intent to preserve the original architect of the house.
Rooms: 5
Bedrooms: 3
Bathrooms: 3
Features: terrace with a view of the bay, trees surrounding the apartments, patio area on the first floor
This Luxury Flat is 130 sqm on the first floor and the building is completely renovated.
Included are a double living room, kitchen, utility room, two double bedrooms, and two bathrooms.
In the picture above you can see the beautiful tile that lights up the room in the morning. The rooms throughout are cream pastel blue and pink.
You will also find a small veranda and a terraced balcony.
Rooms: 5
Bedrooms: 3
Bathrooms:2
Features: tile flooring, tile bathroom walls, terraced balcony
Villas tend to have a modern feel with a lot of greenery surrounding the property. They will have a lot of rooms for getaways to celebrate any occasion.
Villa in Naples: € 1,250,000
This luxury Villa in Naples is not far from the beautiful sea surrounding the Sorrento peninsula. It dates back to the 17th century and this villa is 300 square meters.
Included with the property is 400 square meters of a garden with two garages and an outbuilding. The building includes one bathroom and bedroom and a cellar.
On the first level of this villa are a living room, dining room, built-in kitchen, and bathroom.  We then can make our way upstairs to find the master bedroom with an en suite bathroom, 2 double bedrooms, 1 single bedroom, and 1 bathroom.
All rooms on the second floor have a beautiful view of the Gulf of Naples and Vesuvius.
Rooms: 11
Bedrooms: 4
Bathrooms: 4
Features: Garden, sea view, terrace, parking space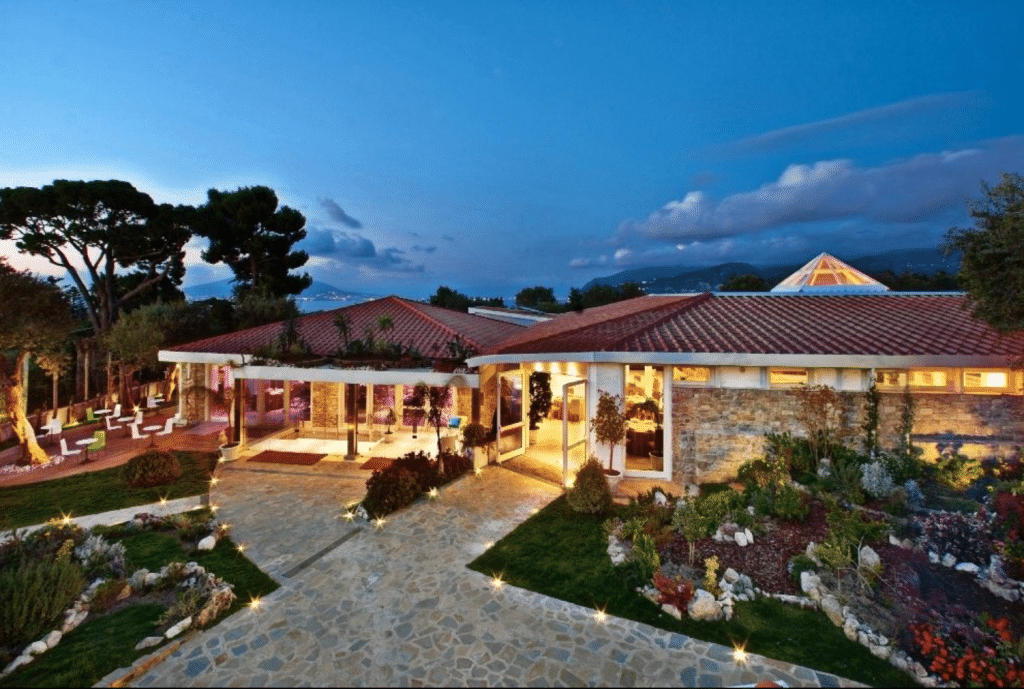 This is referred to as the wedding villa because it currently runs as a venue for weddings and stunning events in Sorrento Italy.
It has been completely renovated in 2015 and the property is approximately 1000sqm indoors and 1000 sqm outdoors.
The driveway to this property is made of stone with a large gate and 4 access points around the villa. Around the property follows olive and Mediterranean trees with a garden.
The ground floor consists of two large communication rooms followed by a living room, a large kitchen, and multiple bathrooms.
Rooms: 7
Bedrooms: 0
Bathrooms: 3
Features: garden, stone surrounding the property, newly renovated
Luxury properties will consist of penthouses and larger villas. There tends to be more space, rooms, and scenery.
Luxury Penthouse: € 1,200,000
Here is a luxury penthouse with an elevator building and a surface of 170m2. The terrace is 27 m2  with beautiful glass windows where the colors fill the house when the sun shines. Within the open kitchen structure, there is a small dining table in the center.
In the living room, you will find a fireplace and TV with carpet floors. Next, you will find a terrace with a table in the center to sit in the mornings.
Every room is filled with light from the windows and the structure of the house is simple with character in every room.
Rooms: 5
Beds: 2
Bathrooms: 2
Features: open kitchen, fireplace, glass tile windows, terrace
12 Room Luxury House: Price upon application
This 12 room luxury house is surrounded by beautiful greenery. There are 3 levels which all have an internal and external staircase.
On the ground floor are three bedrooms, a living room, a kitchen, and two bathrooms. On the first floor is three bedrooms, each with a bathroom. There is an additional bedroom with a laundry room completing the first floor.
In the master bedroom is an ensuite bathroom and leads out onto a large terrace. On the second floor is the entertaining area, two scenic terraces – one with the view of Vesuvius and the other the Sorrentine Peninsula.
The color scheme is a lot of blues and greens to match the water and plants. Outdoors, there is stone flooring and a lot of large space for an outdoor sitting area.
You can access the terrace from your bedroom to wake up to the sunset. Lastly, there is room throughout this house to fill with numerous plants.
Rooms: 12
Beds: 7
Bathrooms: 8
Features: two scenic terraces, entertaining area, outdoor seating area, a lot of greenery
Hopefully, you enjoyed these properties!
Each of them had a unique style, architecture, and a lot to offer. With a lot of properties in Sorrento Italy, you will find very unique structures. Some may be historical or recently renovated so definitely see which styles you like and you might surprise yourself with other options.