Calling all Buyers! Stunning Properties for Sale in Florence, Italy
So, you're falling for the ancient, sovereign land of Italy. Perhaps you've been looking at some beautiful properties, picturing yourself eating homemade bread and drinking Sicilian lemonade in the rustic, terracotta domain of Florence.
Well, now you can make that dream a reality. (yes really, it can actually happen!)
In this article, you'll find a wide range of properties available to suit everyone's budget. Whether you're looking for something to suit your family life or fit for fourteen Kings having a slumber party. We have something for everyone. First up, we have…
Starting with a comfortable fairly priced 2 bedroom house, this is not a property to scroll past.
Whilst this is affordable and on the cheaper side, it's an ideal first home in a beautiful location, only one hour from the airport! (Just think of the short drives at 2 am in August, oof!)
Not only is this property rustic and surrounded by history, but it's also a large space ideal for a family searching for their first home in Florence, Italy. Its features include (but not limited to…)
Only one hour from the airport
A strong, structurally sound house
Rustic interior
Close to amenities
Beautiful location
Surrounded by history
Ideal for a first-time family
This 2 bedroom house is absolutely perfect for first-time buyers, located in the beautiful residential area of Tuscany and surrounded by rich Italian history.
Not to mention, it offers a significant amount of privacy whilst not being secluded, so you can get that perfect balance between the countryside and the city.
I hear you… you want something a little up the scale. Well, how does this stunner fit?
This 3 bedrooms detached house in Tuscany, Florence won't break the bank (especially for 3 bedrooms!) and is still perfect for a first time home buyer looking to settle in the history-rich city of Florence. 
With 3 bedrooms, this home will suit well for any first time family with extra room for guests, making it a show-stopping choice for anyone looking to budget and still land a great purchase.
It's benefits include (but are not limited to…)
Close to amenities
2 bathrooms
3 bedrooms
Beautiful location
Large space for first-time buyers
Affordable price!
Offers privacy but not secluded
Pool and outdoor dining area
Rustic interior
Modern refurbishments
So, it's clear an affordable price can still get you your dream home. For those looking for something within budget yet fitting for their needs as a luxury-thriving family, look no further than this 3 bedrooms detached house in the heart of Tuscany, Florence.
Oh yeah, we're getting into royal territory now. This stunning villa has no less than 5 bedrooms and is the perfect choice for anyone looking to live their best life in the heart of Tuscany.
It's stunning modern exterior is only a taster for the interior you will be greeted with inside, with each of the large and spacious areas more beautiful than the last.
As you can see, the inside area is well lit and spacious with enough room for all of your guests and family to enjoy. It's warm, sepia themes and aesthetic is sure to make any night feel euphoric (time to break open the drinks, I think!)
This particular property is characterised by the beautiful loggias that surround the living area, which is big enough to be its own house. The living area consists of:
Entrance hall
Bedroom
Dining room
Kitchen (with pantry)
Large double living room with fireplace
Study
Hallway
Bathroom and laundry room
Not to mention its benefits which include (but are not limited to…)
Tuscany typical in style
Panoramic
Offers privacy not not secluded
Park with olive trees
Private pool
Lovely location
Recently built
Modern interior
Rustic aesthetic
Tasteful
This villa truly is perfect for anyone. There is enough space for families and large groups of friends (or both) and will certainly fit your needs whether they be basic or luxury. Not to mention, you will be right in the heart of Italian history, with no chance to feel bored (not even for a second.)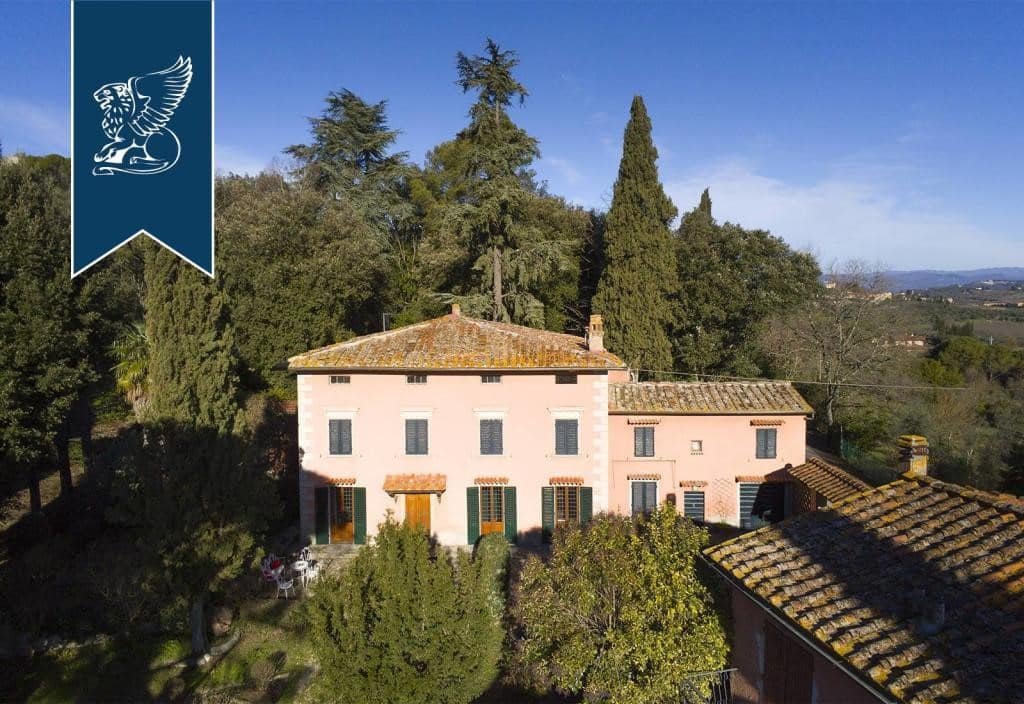 Oh, baby, we're getting into the good stuff now. This gorgeous 5 bedroom villa is fit for a monarch and their friends. It truly is a show-stopping contender in the Florence property scene.
Located in the heart of Rignano sull'Arno in Florence, it's absolutely surrounded by historical connections whilst offering enough privacy to calm you without secluding you from the wide beauty of Florence.
Moving throughout the property, it becomes clear that this is no one-trick pony. Take a look at the interior for yourself:
The space is exclusively modern with warm and inviting sepia tones throughout that will make anyone feel at home in this beautiful villa. Each and every area of the property is spacious and well lit, with enough space for all family members to make the most of this incredible getaway.
Its benefits include (but are not limited to…)
Stunning rural scenery
Lovely location
Rural countryside
Vast and manufactured garden
Close to Florence city centre
Three breathtaking floors
Covers over 750 square metres!
Beautiful traditional Tuscan stone fireplace
This property will not disappoint. Designed to invite large groups of people and house them for late-night al fresco dinners, you'll feel so at home here you'll never want to leave (and hey, who says you have to?!)
Now, finally, let me introduce the creme de la creme of our properties today. This wonderful and modern 3 bedroom apartment for sale in Tuscany is truly everything anyone could ever wish for in a property (Woah, mama would you get a look at her?!) 
This absolutely stunning apartment is located in the heart of Tuscany, refurbished to embrace the true and traditional value of Tuscan style in a modern light. 
Needless to say, this property stands out on the market right now. Against some other Tuscany properties, it is easy to see why this one is the favourite among many Florence central buyers.
Each and every area throughout the apartment is bright, well lit and welcoming with modern refurbishments and functional styling in mind.
Not only has every inch of this apartment been designed in consideration of modern living, but the entire apartment still maintains its warm, inviting aesthetic that many Tuscany properties feature. You don't want to miss out on this incredible purchase whilst it's still available.
Its benefits include (but are not limited to…)
Incredible modern functionality
Bright, spacious aesthetic
High, stylish ceilings
Traditional Tuscan styling
Exclusive residential area
Elegant
Distinctive design
Classic finishes
Offers privacy but not secluded
If this property hasn't sold Florence to you, then I don't know what will. All I know is I can definitely see myself kicking back with my family for a tall glass of something bubbly in every single one of these properties, and I'm sure you can too.